Vista Real Ranch Russells Presents:

This is Rocky. Rocky took Best of Breed at the UKC Claremont, Ca. show June 29, 2003. This show was put on by The Golden West Toy Fox Terrier Association. We are so proud of Rocky!! He also got Best Male in Longmont, Colorado on July 19, 2003 to complete his Championship Title!

(It was about 100 degrees when this pictures was taken).

On June 27, 2004 in Claremont, CA Rocky finished his Grand Champion Title. He was handled by his 8 year old Jr. handler to receive his final leg. We are very proud of both of them. Rocky will now be retired from the Conformation show ring. He finished this year listed in the UKC top ten for 2004.

On June 5, 2005, Rocky earned his Novice Go To Ground Certificate and won his class. Yea, Rocky!

CERF# JR-876

Normal 7-03, 7-04, 7-05

Patellas: Normal

Rocky no longer lives with us. He is retired from his show career and enjoying life as a beloved pet. He is in a happy home in S. California. We will miss him.

This page was last updated on: July 12, 2006
Grand Champion Vista Real's Rowdy Rocky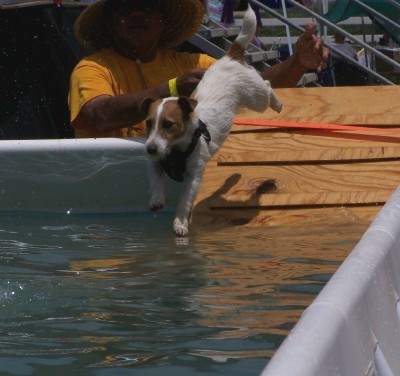 Rocky the Splash Dog,

This is retirement?